Smart Outdoor TV Model No : FS-215F
Any Where Smart TV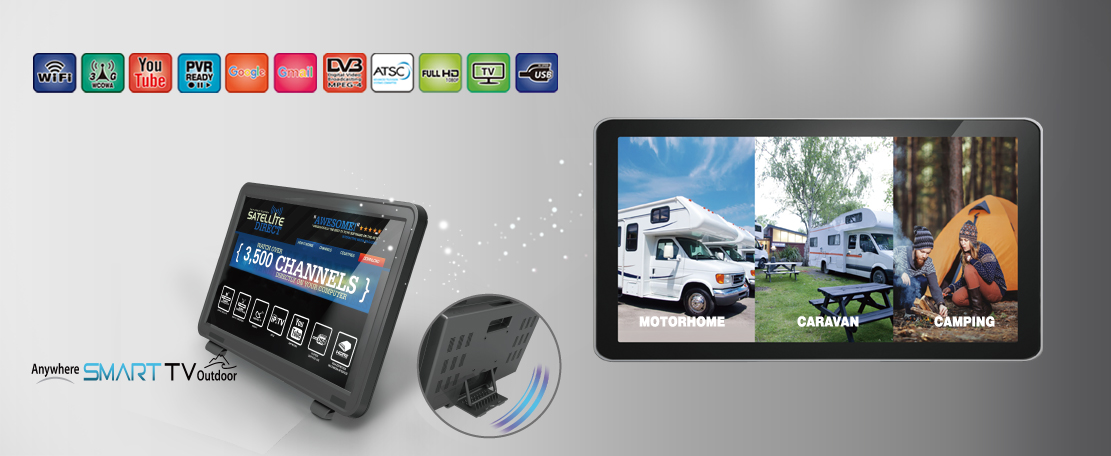 Anywhere Smart TV is an all-in-one touch-screen TV for next generation, which can be used anywhere in the world, supporting 70 languages. Its automatic satellite positioner enables its user to receive 170 free-to-air satellite broadcastings worldwide.
It can also access free terrestrial broadcastings and internet, then thus provide additional functions,
such as reception of IPTV and capabilities of Youtube video playing, wi-fi miracast, hotspot access, and KODI with PVR. It is a DIY procuct for ordinary users and can be easily installed at home without any professional help.
21.5" screen disply with built in positioner satellite TV
Built in ATSC digital TV
HDMI External Video Sources Recording
WIFI & Internet Network Access
Mira cast Wireless Monitor Display
Hotspot Internet Access Support
USB Time shift recording
HDMI TV & CVBS Output Cable Interface
12~24V DC Input Power Operating
Hardware
Hardware
CPU
Dual-core ARM Cortex A9 processor with NEON
GPU
Quad-core high-performance GPU
Memory
RAM
1GB DDR3
Flash
4/16/32/64 GB Emmc
Display
Screen Diagonal
546*865(21.5")
Active Area
476.64(H)*268.11(V)
Pixel
1920(*3)*1080
Pixel Pitch
248.25(Per one Triad)*248.25
Pixel Arrangement
R.G.B Vertical Stripe
White Luminance
250 cd/m2(Typ)
Contrast Ratio
3000(Typ.)(TBD)
Optical Response
25ms(Typ., on/off)(TBO)
Power Consumption
16.55watt
Temperature Range
0 to +50 Deg
Tuner
Tuner
DVB-S2 / DVB-C / ISDB-S / ISDB-T / ATSC
* Each tuner module is optional.
Software
Platform
OS
Android 4.4.2 Kitkat
Apps
Web broswer
Media Player
Kodi with PVR Client (DVB Support)
HDMI Recorder
Protocols
Miracast
DLNA
NFS/SAMBA
Encoding
Video
H.264 BP/MP/HP
Audio
G.711(u/a), AMR-NB, AMR-WB, and AAC-LC
Decoding
Video
MPEG 1/2/4, H.264, VC-1, RealVideo, AVC-HD
AVI, WMV, 3GP, MP4, MOV, MPG, VOB, MKV, FLV, TS
Audio
MP3, MP2, OGG, AAC, FLAC, WAV, WMA, APE
Image
JPG, BMP, PNG, GIF, TIF